ENTRANCE TO LA NEWBERG ON OUTSKIRT OF MORTAIN

Crossing the Railway Bridge toward Entrance to Mortain.
The tracks are no longer there today.
| | |
| --- | --- |
| | |
| The R O half-track was parked here for 4 days. Having been cut off for a couple days a small Task Force broke through to us and tried to advance. A young Lt. knelt down just to the rear of our half-track and waved his infantry platoon past. Six of them were cut down and piled up in front of him. | Cremel Alphouse, Rene Langlois, and Emile Loisel show Charles where a Sherman tank was knocked out and burned fifty year ago. |
Charles Corbin listens to Madam Rennne Alphouse explains how she remembersseeing 4 tanks in the field across the road when she was 5 or 6 years old.

Monsieur Emile Louisel - Charles Corbin
Madam Renee & Monsieur Cremel Alphouse
| | | |
| --- | --- | --- |
| | | |
| | Charles Corbin received an autographed book from Dr. Giles Buisson | Rene Langlois Shows Corbin the 30th. Infantry Division monument on hill 317 |
To the Left in the background was where three of our Sherman Tanks got knocked out when they tried to through holes in the hedgerow made by a tank doiser. Our RO half-track was following each tank through the holes.

Charles Corbin shows the height of the hedgerows, in the
background was where the RO half-track was parked.
This is Crossroads 272.

On the Left is a sign pointing to La Graffardiere.

On the Right is a sign pointing to La Tete ala Femme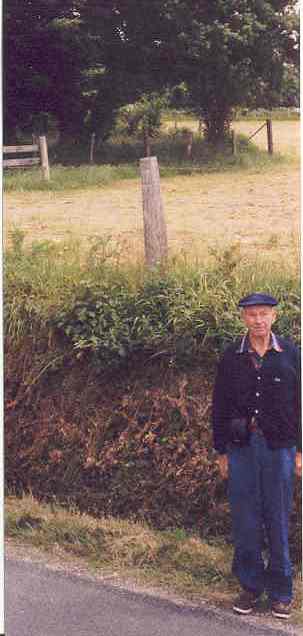 Charles standing in front of where the halftrack was.
Back to Mortain