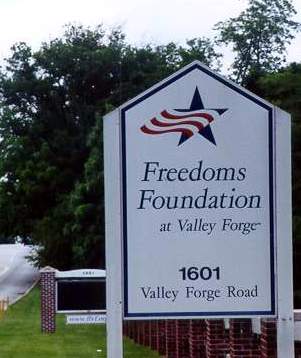 This Is The Freedom Foundation Park Where The 3 AD Memorial Is Located
In 1998 at our reunion in Asheville, NC, John Goodin told me that we should have a Third Armored Memorial at Valley Forge National Foundation and asked me to bring it up at a meeting. I replied that he should do this being it was his plan. His plan attracted the help of Dave Wolf who lived near Valley Forge. John passed away in early 1999. And Dave Wolf took over as Chairman, assisted by Ernie Gamble, William Heinz, and William Ruth. They asked for members to contribute and they had enough funds in 2000 to pay after they received permission for the monument. The Third Armored memorial was dedicated on July 4, 2001. May it be a constant reminder to the visitors of its great battles and its role in our Heritage. We give special thanks to John Goodin B/32 for his splendid Idea.


3rd Armored Division Monument Dedication July 4th 2001
This day is significant in the annals of history, not only for it was, but also what it is. We're here to dedicate our Monument on the Freedom Foundation Campus. Which salutes the devotion, and courage, of the Veterans of the 3rd Armored Division, who fought so valiantly 57 years ago against Hitler's Elite Panzer Divisions.
Since our nation first gained its independence; American Soldiers today, have responded to every threat to our Government, our Liberty, and our way of life. It's particularly appropriate that we're gather here in Valley Forge, because this place represents the courage and perseverance of the American Soldier, past and present.
It's a reminder to us, that it's not only a victory of arms, but also more importantly a victory of character and human spirit. It's the thread that is woven into the very fabric of American Heritage and Courage; a legacy of Patriots that have fallen in combat, sacrifice their lives in the defense of our great nation. Today we honor the Patriots of the more resent battles; NORMANDY, NORTHERN FRANCE, RHINELAND, CENTRAL EUROPE, and the ARDENNES (better known as the Battle of the Bulge), we personify the values which Americans cherish most dearly.

As members of the Armed Forces, we take an oath of service. Many of us took the same oath, to guarantee the security and freedom that we enjoy today. Your sacrifices, Your blood, You became, heroes to America and you earn the place in history, just as our soldiers today around the world.
Just a few feet from here, is the Medal of Honor Grove (52 Acres) commemorating all of the Americans awarded the nations highest Honor for Valor, dating back to the Civil War, up to present. George Washington and his Continental Army had their encampment near here; our Monument will be amongst greatest heroes of our country, need I say anymore.

July 4, 2001; by David Wolf