INTERVIEWS
CLIFF ELLIOT
JIM CULLEN
WALTER STITT
PHOTOS
EASTERN ARDENNES PHASE III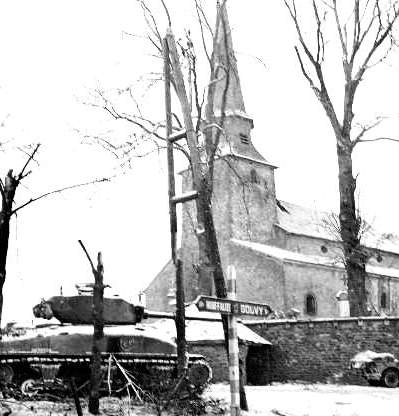 Date: 17 January 1945 Location: Cherain, Belgium Description: American tank waits for orders to move on in street of Cherain, Belgium. This town has just been taken by task force of Third Armored Division and is still under enemy shellfire.
THIS IS THE FINISH OF THE 3 AD ACTION IN THE ARDENNES
In March 1993, I with my wife Margaret and son Chip rented a small chateau in Malempre, Belgium. I was doing some research of the Ardennes. It was just like 1944-5 as we had a six inch snowfall. Eddy Monfort a young Historian and Author came by and told me I was in a historic spot as about 200-300 yards to the edge of the forest was a small trail T F Brewster had used on December 25, 1944 to escape to Bra and on January 3, 1945 T F Lovelady had come down the trail and by my Chateau to attack and recapture Malempre. He suggested we follow T F Lovelady's trail through Malempre and Fraiture which we did by auto. We also visted Barque de Fratiure known as The Crossraads which was recaptured by T F Hogan on January 4th, 1945. Then we visted the villages of Hebronval,Ottre, Bihain, Langlir,Barclaim, Strepigny, and Cherain. It was an enjoyable trip but not so in 1945 from the interviews below.