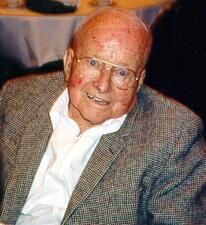 This is MG (Ret.) Walter B. Richardson
In WW II he was a Lt. Col. C O of 1st. Bn. 32nd. Reg. Known as Task Force Richardson, He led his Task Force all the way from Normandy to Dessau, Germany. He was wounded 4 times, but never missed a day of action.
THIS INTERVIEW WAS TAKEN BY JACK B. WARDEN
Jack Served as a Platoon Commander in B Co., 36th, Armored Infantry, 3 AD Div. in WW II. He hails from Austin, TX. MG Richardson Lives in New Braunfels, TX Where The Southwest Chapter Of The Third Armored Division Assn. Held Their Meeting. Major General (Ret.) Walter B. Richardson Was Able To Attend The Meeting For A Couple Of Hours. He Now Has Parkinson's Disease And Is Forced To Use A Walker. But His Spirit Is Undaunted And He Still Has That Great Smile And Wit Of His Early Days. This Is His Story. As He Told It To Our Group. (By Jack Warden)
Two American Armies Were In The Process Of Encircling The Ruhr Industrial Area In A Huge Pincers Movement. The Northern Claw Was Simpson, And The Southern Claw Was Hodges. Neither General knew As Soon As They Met And Entrapped Model's Entire Army Group American Hopes Would Be Relized Simpson Would Be Back Under Bradley's Command And The Americans Would Then Launch The Main Allied Attack.
Spearheading The Hodges Claw Was The 3rd.Armored Division, And Spearheading The Division Was Task Force Richardson. Late On The Night Of March 28,Lieutenant Colonel Walter B. Richardson Was Ordered To Report To Colonel Robert Howze, Commander Of Combat Command Reserve, 3rd.Armored Division. Richardson Was A Bit Disgruntled. He Had Been Fighting For Over A Week With Almost No Sleep And Guessed He Was About To Lose Some More. at Howze's Command Post He Met His Old Friend And Fellow Texan Lieutenant Colonel Sam Hogan. They Had Fought Side By Side Across France, In The Bulge And Over The Rhine- Land.
Howze, Usually A Calm Man, Was Exicited."We'll move," He Told The Two Lt.Col's." We'll Really Go!" He Pointed To Paderborn On The Map And Looked Meaningfully At Richardson. It Was More Than 100 Miles North Northeast. Richardson Couldn't Believe His Eyes. "You Mean-Get To Paderborne In One Day?"
Howze Nodded." Tomorrow Morning You Leave For Paderborn. Just Go Like Hell! Get The High Ground At Paderborn Airport." Turning To Hogan, He Ordered Him To Cover Richardson, Slightly Echelon To The Left. Task Force Welborn From Another Combat Command, Would Come Up On Richardson's Right, With The Rest Of The Division Following As Best They Could." Get To Paderborn, Don't Stop," And The Colonel Explained That Simpson's 2nd. Armored Division Would Meet Them There. This Would Put The Entire Ruhr In A Sack.
It Was This Kind Of Mission Richardson Liked, And He Forgot His Exhaustion. Back At His Own Command Post He Told His Commanders That They Were Going To Move Out At 6: am. He Said Howze Had Given Him Only One Order. "Go" and They Were Free To Move Anywhere-Off The Road On Trails, on Highways, As Long As They Got To Paderborn In One Day. It Was Typical Of Richardson That He Got Up At 4A.M.And Personally Reconnoitered Three Miles Ahead In His Jeep So The Task Force Could Start With Momentum. When He Found Nothing Out Front, He Returned And Inspected The Column To See That Extra Gas Was Aboard.
At 6a.M.Task Force Richardson Started North Full Throttle At 32 Miles An Hour, with Orders To Circle Any Strong Roadblock And Move Crosscountry If Necessary. In The Lead Was A Half-track And Several
Page 2
Jeeps. Then Came Richardson's Jeep And Three Shermans Stripped Of Equipment And Riders. Behind Them Were Seventeen Shamans Loaded With Infantrymen And Three Big Pershings With Their Great 90-Mm, Guns. Next Came Richardson's Staff, A Battery Of Self-Propelled Guns, Seventeen More Sherman Light Tanks And A Long Line Of Trucks Filled With Men, Ammunition And Food. It Was A Mobil, Battle Tested Force. And In Spite Of General Exhaustion, almost Everyone Was As Eager As Richardson Himself. Little Happened All Morning As They Raced North In Column. At Noon They Knocked Out A German Passenger Train With out Stopping. Then Rolled Through Several Peaceful-Looking Military Installations. When They Finally Came To A Roadblock Richardson Simply Smashed Through, Using The Lead Tanks Like Battering Rams.
Just Before Dusk Richardson Checked His Speed0meter; It Had Already Clocked Seventy-Five Miles. But Fog Was Rolling In And His Radioman Could Make No Contact. There Was Only One Thing To Do. Push On. Entering Brilon A Few Minutes Later, Richardson Received A Radio Order From The Division Commander, Major General Maurice Rose. Task Force Richardson Was To Clear Brilon. Richardson Acknowledged The Message, But As Far As He Was Concerned He Was Still Going To Follow Howze's Orders, So He Kept Going. Paderborn Was More Than Thirty Miles Away And He Didn't Yet Know Which Route To Take. He Went Ahead With A Few Vehicles To Find The Best Road, And Sent The Main Body Into Brilon To Make A Cursory Investigation.
It Was More Than An Hour Before Richardson Learned From A Civilian That A Good Road To Paderborn Was Just Ahead, But It Was Now Dark And Foggy And Someone Would Have To Walk Ahead And Lead The Column. He Had Just Started To Get Out Of His Jeep To Do The Job Himself When He Heard The Main Body Catching Up At Last He Wondered What Had Kept Them So Long At Brilon. A Young Lieutenant, A Platoon Leader, Leaped From The First Tank And Hustled Up To Richardson Through The Gathering Darkness.
"Follow Me," Said The Colonel, And They Started To Walk Down The Road. Richardson Noticed The Lieutenant Was So Scared That His Face Looked White In The Gloom. He Didn't Blame Him.
The Tank Lights Shielded By Blue Tissue, Rumbled Behind. Getting Closer And Closer, Richardson Walked Faster But The First Tank Kept Gaining On Him. When It Nudged Him In The Back, He Jumped Aside And Jogged Across The Road Into The Ditch. Like A Faithful Dog, The Tank Followed Richardson Into The Ditch. He Scrambled Back On The Road And Waved His Flashlight Frantically, But The Tank Continued To Bear Down On Him, Now He Could See The Second And Third Tanks Wobbling Back And Forth In A Clumsy Effort To Follow The Leader. And Just Behind He Saw The Dim Mark Of A Red Cross. What The Hell Were His Ambulances Doing Up Front? Finally. In Answer To His Signals, The First Tank Stopped With A Lurch. There Was A Loud Clank As The Second Tank Banged Into The Rear Of The First And, A Moment Later, Two More Metallic Thuds. Richardson Shouted Angrily At The Driver Of The First Tank, And Turned To The Platoon Leader." What The Hell Happened To The Tank Commander?"
The Shaken Lieutenant Climbed Up To The Turret Of The Tank And Looked In. "Something's Wrong!" He Called." There's Champagne All Over The Floor Of The Tank."
Page 3
Richardson Clambered Up And Saw The Tank Commander, Eyes Glassy, Sitting On The Floor Of The Tank Clutching Two Bottles Of Champagne." He Ordered The Lieutenant. Keep Them On The Road. Throw The Champagne Out And Keep All Hatches Open. The Cold Damp Fog He Figured, Would Sober Up His Drunken Column. As He Walked Back To The First Ambulance A Familiar Bundled-Up Figure Shuffled Toward Him. It Could Only Be Dr."Scattergood." "We Ought To Go Back To Brilonp," Said The Doctor Mysteriously And Grinned."Scat, What The Hell Is Going On?" Richardson' Asked Suspiciously. "Colonel.I Have To Tell You The Truth." He Confessed He Was The One Who Found A Warehouse Full Of Champagne In Brilon.
Richardson Radioed His Executive Officer To Get The Rest Of The Task Force Out Of Brilon Immediately. If He Had To Shoot Them Out. And Again Started Down The Road On Foot. After A Few Miles The Fog Thinned And The Colonel Returned To His Jeep.
At Midnight He Again Checked His Speedometer And Found That He Had Gone 109 Miles, And His Only Casualties Were Hangovers. But Five Miles Ahead Lay Paderborn, Site Of A Tank School And An Ss Replacement Army Training Regiment, He Stopped The Column, Told The Men To Gas Up, Eat And Get A Few Hours Sleep. The Next Morning They Would Be In For A Brawl.
Meanwhile, Back To The Germans: March 29th.Model Drew Up An Estimate Of The Entire Situation And Teletyped It To Kesserlring: His Mission To Contain The Enemy At The Remagen Bridgehead And Prevent Wide Spread Advance Across The Rhine Had Failed: C0ntinuati0n Of This Defense, Therefore, Was"Absurd, As Such A Defense Could Not Even Pin Down Enemy Forces." A New Mission Was Necessary, Since An American Unit -This Was Task Force Richardson Had Suddenly Appeared Out Of Nowhere And Was At The Outskirts Of Paderborn. If This Force Was Not Snapped Off At It's Base, Army Group B. Would Be Outflanked. Model Asked Permission To Attack Eastward With The Lill Infantry Corps To Attack The Following Morning, March 30. [Curiously, On The Night Of March 29 General Von Zangen, Fifteenth Army, And His Staff Were Cut Off From Their Own Army, Which Was Part Of Model's Army Group. Between Zangen And His Troops Was The Main Body Of The 3rd.Armored Division, Which Was Following Richardson, Hogan And Welborn. Zangen Hid In The Woods With Some 200 Vehicles Until The End Of One Of Rose's Columns Rumbled Past. He Waited A Minute; Then, Using The Same Dim Lights As The Americans, Simply Joined Their Column. Sandwitched Between The Americans, Zangen Stayed In Line For Several Harrowing Hours. Finally, Near Brilonihe Left The Americans By Turning Off On A Dirt Road, And Was Soon Reporting To Model, Who Could Only Exclaim In Disbelief," You're Here?'
Up Ahead, Richardson Was Planning His Own Attack On Paderborn, Never Suspecting That The Germans Were About To Attack Forty Miles Behind Him And Try To Cut Him Off From The Bulk Of The 3rd.Armored Division. At The First Light Of Dawn He Moved Out. It Was Dull, Cloudy. At A Crossroads. Panthers Knocked Out Richardson's First Two Tanks, And Two Miles Farther On, At A Village Only Three Miles From Paderborn. A Sizable Force Of Panthers And Tigers Darted Out, Attacking With Ferocity. After A Brief, Savage Fight Both Richardson And The Germans Pulled Back. It Was A Standoff: Neither Side Could Move Without Being Blasted. Richardson Radioed For Thunder-Bolts To Attack The Germans Who Were Hiding Behind A Hill, But Heavy Clouds Made Air Support Impossible.
Page 4
Desperately In Need Of Fan Belts As Well As Ammuntion And Gas. Richardson Radioed For An Airdrop. No Aircraft Availableí Was The Laconic Reply. A Few Minutes Later Came Even Worse News. The Germans Had Launched A Surprise Attack Forty Miles To His Rear And He Might Be Cut Off.
Now Richardson Could Only Dig In And Hope The Germans Lying In Wait Out Front Would Not Attack. They Were Just As Leery Of Him And Did Nothing. But At Dusk Richardson Was Presented With Another Problem: "Big Six" General Maurice Rose, The 3rd.Armored Division Commander Was Coming Up To Inspect Task Force Richardson And Wanted Someone To Meet Him. Richardson Radioed Back That He Couldnít Even Spare A Jeep. Donít Send Big Six This Way!" He Warned And Abruptly Signed Off.
Rose Was About Five Miles To Richardsonís Right, Temporarily Attached To Task Force Welborn. Colonel John Welborn Had Just Been Informed By The Air Force That Four Tiger Tanks Ahead Had Been Destroyed By P-47s, And He Moved On Confidently. Nothing Happened For A Few Miles but As The Americans Were Rolling Along A Barren Rise, Heavy And Accurate 88mm Fire Suddenly Hit The Column Head On .The Four "Destroyed" Tigerís Were Very Much Alive. They Had Been Hit Only By Napalm And Not The Usual Killers-500-Pounders.Welborn And The First Three Tanks Rumbled Safely Ahead Into A Defilade Of A Creek Bottom, but The Next Seven Were Rapidly Picked Off Like Sitting Ducks.
General Rose, The Son Of A Rabbi. Was An Aggressive Commander. He Had A Stern, Hansome Face And Wore Riding Breeches And Shining Boots. He Was A Half Mile Behind The Burning Tanks, And After Learning That The First Three Had Successfully Broken Through, He Radioed For Help From Task Force Doan, Which was Following.
But Seven Or Eight Tigers Had Just Come Out Of The Southeast, Cutting ting Off The Rear Of Task Force Welborn And Blocking Doanís Advance. This New German Force Had Already Knocked Out A Tank Destroyer And Several Personnel Carriers. Except For The First Three Tanks. Task Force Welborn Was Now Completely Surrounded. Ahead Were Four Tigers Visible On A Hill Astride The Road; Behind Were Seven More, Firing And. Slowly Moving Up The Column; And On Either Side German Infantry Men Were Hiding In The Woods.
At Dusk, After The Last p-47s Had Departed, A Group Of Nine Tigers, Three Abreast And Three Deep, Suddenly Poked Out Of The Woods To The Left And Ahead Of The Cut-Off Column, and Slowly Moved Down The Road, Raking All The Vehicles And Machine-Gunning The Ditches, Rose And His Party Were Trapped, With Tigers Front And Rear Systematically Destroying Everything In Sight. The Only Light Now Was From A Burning American Vehicle. No Move Was Good, However There Was No Choice But To Move. It Was" A Wild Scene From Danteís Inferno," Though I Colonel Frederic Brown, The Division Artillery Commander. He Advised Rose To Cut Through The Woods On The Left In Spite Of Small Arms Fire, In Order To Get Around The Tanks Blocking The Rear. But Rose Pointed Out That There Was No Tank Fire Ahead Where Welborn Had Turned-The Four Tigerís Ahead Must Have Withdrawn. Therefore, It Was Safer, He Argued, To Go Right Out Of The Light Of The Burning Column and Then Forward To Join Welborn."
So The Generalís Party-Two Jeeps And An Armored Car Followed By A Messenger On A Motorcycle-Swung Out Of Line Of The Blazing Tanks Ad Headed Towards Welborn. After A Mile They Came To A Junction. Up A Road To The Right They Could See The Dim Outlines Of One Of His Tanks. The Rose Column Turned Off The Main Road-Which Led To Task Force
Page 5
Richardson-And Started Over Towards The Tank. It Was Disabled And Abandoned. Suddenly There Was A Burst Of Rapid Small Arms Fire From The Woods Ahead. The Rose Party Quickly Turned Back To The Main Road And Continued Toward Richardson. Brown's Jeep With The Colonel Driving Was In The Lead. Then Came Rose's Jeep, The Armored Car, And The Motorcycle.
The Four Vehicles Were Just Starting Up A Rise When Brown Saw A Big Tank Lunging Down Toward Them Through The Gloom." There's One Of Jack's New Tanks, "He Said, Thinking The Ghostly Shape Was One Of Welborns New Pershings. But As The Tank Rolled By One Of Brown's Passengers-Colonel George "Seafood" Garton Noticed It's Two Exhausts; A Pershing Had Only One. It Was A Tiger And Garton Felt Sure Others Were Right Behind." Tigers," He Shouted To Brown." Get Off The Road!' Brown Gunned The Jeep Past Two More Tigers And Looked For A Place To Turn Off.

The First Three Germans Didn't Realize That They Were Passing An Enemy Column, But The Fourth Abruptly Started To Swing Across Browns Path. He Squeezed The Jeep Between A Tree And The Tiger, Tearing Off His Gas Can To Get Through. As He Slowed As He Slowed To See If Rose Had Also Broken Through, A Fifth Tiger Approched. Brown Swung To The Right, Gunned The Jeep Through The Ditch And Cleared The Road. He Stopped In The Middle Of A Field. Behind, German Flares Were Shooting Up And He Could Hear The Roar Of Guns. Everyone Scrambled Out Of The Jeep And Headed For The Woods. The Rose Jeep, With Driver T/5 Shank And The General's Aid, Major Robert Bellinger, Also Aboard- Got Past The Second Tiger But Was Blocked By The Third. Rose And The Others Jumped To The Road. The Tiger's Gun Followed Them Ominously. Then A German Stuck His Head Out Of The Turret. He Motioned With A Burp Gun And Said Something Unintelligible. "I Think They Want Our Guns, "Said Rose, Belonged And Shank Unbuckled Their Shoulder Holsters, But Rose, Who Stood Between Them, Had To Reach Down To Release His Pistol Belt.

Suddenly There Was A Staccato Burst, Rose Fell To The Road, Dead. In The Darkness The Nervous German Tank Commander Had Misunderstood The General's Intentions. Shaunce Leaped Behind The Tank Out Of The Line Of Fire. Bellinger Flipped Backward In The Opposite Direction And Landed In The Ditch. He Drew All The German Fire But Miraculously Was Not Hit; He Ran Off And Hid In The Woods. Shank Had Broken His Leg But He Too Escaped. The Crew In The Armored Car, however, and The Division Operations Officer, Lt. Colonel Wesley Sweat, Were Rounded Up By The Germans.
Survivors Of The First Ambush Were Scattering All Over The Country Side. As They Ran They Rid Themselves Of Lugers, Watches And Other German Loot. For The Most Part Their Fear Of Reprisal Was Groundless; Few Germans Were Interested In Revenge And Even Less In Hunting Down Amis
That Night, Sergeants Bryant Owen And Arthur Haushchild, Fleeing Through The Woods, Stumbled On Almost 100 Germans Who Greeted Them With Hands In The Air. The Two Sergeants Took Turns Standing Guard. Owen Had Slept Little The Past Week And Dozed Off Twice During His Tours But Was Wakened Each Time By A Prisoner Urging Him To" Get On The Stick!" At Dawn Owen And Haushchild Hearded Their Prisoners On A Trail Through The Woods, Hoping It Was The Right Direction. After Several Miles They Came To A Little Guard Shelter. In The Poor Light They Saw A Soldier Inside But Couldn't Tell If He Was American Or
Page 6
German." Je-sus Co-rist" The Guard Cried When He Saw The Gang Of Germans, And Owen Could Have Kissed Him.
As Soon As The Two Sergeants Had Handed Over Their Prisoners To A Division Officer, They Were Ordered To Go Back At Once And Retrieve Rose's Body. It Took Them An Hour To Find Him On The Road. The Germans Apparently Were Unaware That They Had Killed A Division Commander; The Maps And Codes In His Jeep Were Unmolested.As Were Those In The Ditched Armored Car. Rose's 45 Was Still In His Holster And Owen Took It To Send Back To The General's Family. They Rummaged Through The Jeep And Armored Car Till They Found A Blanket. They Wrapped Rose In A Blanket, Put His Helmet On His Chest And Began Dragging Him To The Rear. As They Approached The American Lines. A Replacement Second Lieutenant Asked What The Hell They Were Doing. When They Told Him, The Lieutenant Criticized Them For Treating A General So Disrespectfully. Owen Who Had Several Friends Lying Back There On The Road, Told Him Off And Was Turned In For A Court-Martial.
The End
The Ruhr Pocket Was Later Renamed The Rose Pocket In Honor Of The Fallen General