INTERVIEWS
PHOTOS


PHASE III
Back to Home Page
CENTRAL ARDENNES PHASE II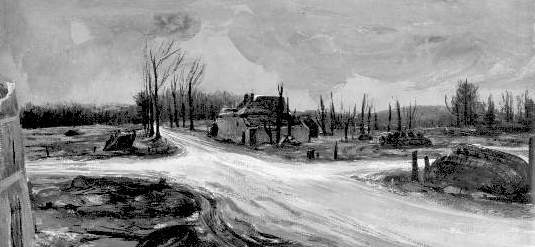 THIS IS THE CROSSROADS (576853) IN JANUARY 1945
When the Third Armored Division left Stolberg on Dec. 20, 1944,Gen. Hickey's Combat Command A was not committed. The Division Headquarters came into Hotton and moved to Erezee later in the day. WhileTask Force Lovelady was committed to the 18th. Corps on the Northern Shoulder, Gen. Boudinot divided the rest of his forces into three attack forces. He sent Lt. Col. Kane down the Manhay-Houffalize road, Lt. Col. Orr in the center toward Samree and Lt. Col. Hogan on the right following the Ourthe River toward Houffalize. Later the Germans would overrun these position and cause mass confusion. There were small battles going on all over the place, even behind our lines. T F Hogan had made good time on the 20th. of Dec., maybe too good as He drove into the middle of the advancing Germans into Marcouray and ordered to retreat to Beffee where he was again surrounded, but refused to surrender. He held out until Chistmas day, and was ordered to destroy all equipment, and escape on foot. This is Major Travis Brown's account of what transpired.
The fighting in the Amonies area was rought. Instead of attacking our troop were defending. Lt. Col. Orr took over T F Tucker. This is an interview of Lt. Col. Orr, Major Owens and Lt. Latkovic.
I have read and studied many books about the part the 3 AD played in the Manhay aera and there is not much writen that tells what transpired, but this report by Lt. Co. Mathew Kane, Maj. Robert J Coughlin and Capt. F. F. Flegeal was written by Fred Hadsel, V11 Corps, !s. U. S. Army. made on Jan 1, 1945, is about the best. It does answer a lot questions about what one may have guessed but still may leave somone in doubt. and yet it seems as the best answer. I wll try to back up this report, from taped interviews taken from the men who partisipated in the battles.
T F KANE
The Interviews Below Are Exact Text Taken From Personal Recorded Videos.